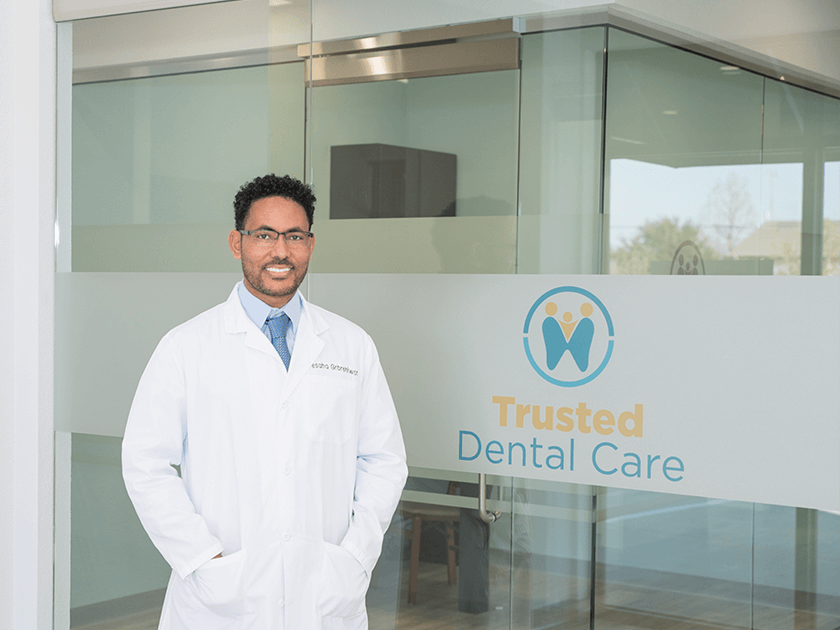 Meet Dr. Fesaha Gebrehiwot
Dr. Gebrehiwot is a highly trained general dentist offering comprehensive and personalized general, cosmetic, and restorative dentistry to patients of all ages in Wylie, TX. Coming from humble beginnings, Dr. G. left his hometown of Eritrea in East Africa after winning a Diversity Visa Lottery, which provided him the opportunity to move to the United States and pursue his education. His interest and appreciation for dentistry began when he visited the dentist for the first time at age 25. Realizing his ability to impact the lives of others in a profound and compassionate way, Dr. G. has cultivated his skills and become a leading provider of patient-focused, quality dental care for generations of families.
After moving to the United States and learning English, Dr. G. attended Arizona State University, where he earned his degree in electrical engineering. He then went on to work for Motorola/FreeScale Semiconductor in a product engineer capacity before returning to school to receive his doctorate in dental surgery from the University of Washington School of Dentistry in Seattle. Today, Dr. G. completes hundreds of hours of continuing education courses so that he may bring the newest technologies and most effective treatment outcomes to the smiles of his patients. He has also trained in the use of dental lasers and both the surgical placement and restoration of dental implants.
When he is not busy enhancing the smiles and lives of Wylie, TX patients, Dr. G. enjoys his most important job — being a father to his young daughter, EriBella. He can also be found participating in some of his favorite pastimes, which include hiking, golfing, fitness, playing pool, and bowling. Dr. G. is an avid reader, with some of his favorite genres being centered on business, autobiographies, investments, and personal growth. As a regular listener of podcasts, he enjoys the inspiration gained from "How I Built This," by Guy Raz, "The Passionate Dentist," "The Relentless Dentist," and "Dentistry Uncensored."
Related Posts