Office Leader
Stephanie is a native of Texas, graduating from North Mesquite. Stephanie has been in the dental field for about 25 years as she started out as a dental assistant. She works hard to ensure that things run seamlessly and our patients and staff members are happy. She keeps the office atmosphere light and fun and works closely with staff and patients to provide the ultimate care. In her spare time, she loves spending time outdoors with her husband of 20 years. Between her and her husband, they have 6 grown kids and 8 grandkids. Stephanie is a longtime fan of Dallas Cowboys.
---
Registered Dental Assistant
After graduating high school in Rowlett, TX, Jessica moved around a bit, and she is excited to have found a place at Trusted Dental Care. Working closely with Dr. G., she really appreciates the extra effort he takes to help the employees with self-development and taking ownership in their work. "He knows our strengths and allows us to think outside the box. He makes sure that we have fun!" On the weekend, Jessica enjoys relaxing and spending time with her son, friends, and family.
Registered Dental Hygienist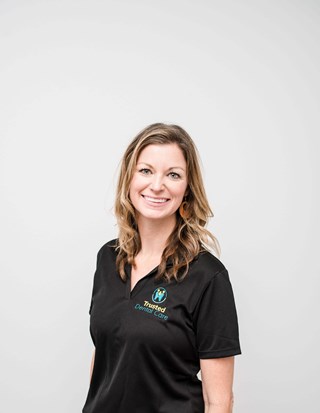 Hi! My name is Kendall, I grew up in Southern California, in the small town of Fallbrook, known as the avocado capital. After high school, I moved to Flagstaff, AZ to attend Northern Arizona University where I earned a BS in dental hygiene. I then moved to Oro Valley, AZ where I practiced dental hygiene for over 13 years. My family and I just recently relocated to Wylie, TX and so far I am enjoying exploring the area. I enjoy spending time with my husband and two kids, Jake (10) and Haley (7). I love to read, bake, and spend time outdoors hiking, skiing, and fishing. I also am an avid sports fan especially baseball and football, and love to cheer on the Packers (sorry Cowboy fans)!